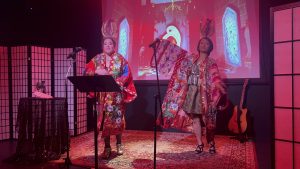 In September, we took our Mayven Festival across the pond to San Francisco!
Spending time with Team Scary member Christina Li, we took our own special brand of fearless feminist entertainment to the streets – literally!
Here's what we got up to:
We took our iconic Living Literature Walk to the vibrant streets of Chinatown and embarked on a unique cultural experience that blends captivating performances, powerful monologues, and a touch of history.
We revamped our award-winning Edinburgh Fringe show "The Riot Showgrrrls Club" to peel back how porn has impacted women in the 10 years since the show's debut.
Our director Becca held a book talk where we shared stories of the remarkable Greenham Women and sang songs with Adobe Books.
Finally, we finished off our adventure with our literary seduction – Salon du Chocolat with guest artists from around San Francisco.
Here are some of the fantastic photos from our travels – both behind the scenes from Becca and amazing shots taken from our shows. Enjoy!