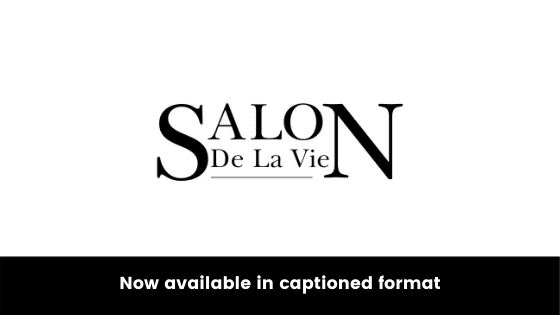 We are so excited to tell you that as of THIS WEEK, all new Salon de la Vie events will be available in a captioned format!
Accessibility is key to our work – as an inclusive and ever-evolving organisation, we are committed to making our work available to all those who wish to engage with it. We've been fortunate over the last few years to be mentored by Michèle Taylor of Ramps on the Moon fame to reduce barriers to our work and are currently working with two brilliant women on improving accessibility for this, and all upcoming, seasons of Salons. We are working with Access Consultant Chloë Clarke on Audio Description, and accessibility around our work as a whole, and with Access Support Becky Barry (no, we don't all have alliterative names) who is captioning Seasons Four and Five for us.
We're are a majority grant funded organisation and as we have been learning about making work accessible we've been factoring it into our budgets and teams to try to ensure it's done with care and quality. Adding accessible options to websites, adding alt-text to social media, adding captions to recorded events, and the discussion and planning around that – each of those is an important job that people specialise in doing really well; we are doing as much as we can within our existing budgets at the moment, and plan to seek more funding to do more (your suggestions welcome!). Chloë and Becky are providing brilliant support as we move ahead.
For Season Four of Salon de la Vie, we will be releasing the captioned Salon a week after we release the non-captioned one. This is not ideal, but it's bit technical and comes down to how and when we upload and schedule the recording of the Salon. We're aiming for one captioned version to be the standard for Season Five.
Captioned versions of Salon de la Vie Season Four will be available as premieres on our YouTube Channel, at 7.30 pm on each of the dates listed below. No booking necessary.
June 9th, Votes for Children! A look at the young people who supported the suffrage movement and found their own voice in the process.
June 23rd, Birds of a Feather. We will hear about plans to fill Parliament with suffragette parrots, talk about how the movement campaigned not just for votes for women but to end vivisection, and explore the links between vegetarianism and suffrage.
July 7th, Nobody Expects the Suffragettes! Site specific, pop up and random acts of activism all characterised the creative shenanigans of suffragists in the theatre and entertainment industries, and in this Salon we celebrate some of the most unexpected!
July 21st, The Woman's Theatre. Here we will look at the way suffrage campaigners imagined a theatre they could be part of, including female producers and playwrights, crèches, and an end to the casting couch… so much to admire and yet to apply to the modern mainstream…
July 28th, Taking the Stage! Our all live season finale bringing the work of Elizabeth Robins, Evelyn Glover and Cicely Hamilton to life before your very eyes! Expect digital mayhem, songs, short scenes and feminist fun for all! Tickets for this £5, the only Salon of the season we're charging for and we are super grateful for your support!