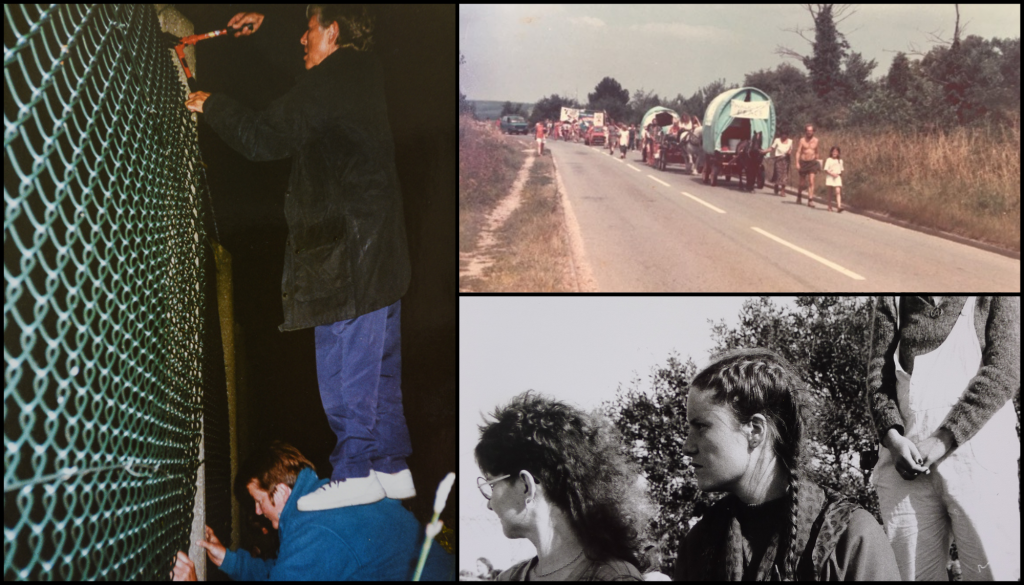 Over the last 6 months Josie has worked with us, through the Kickstart job creation and support scheme, on our sister project – Greenham Women Everywhere. As she ends her placement with us here she shares some thoughts about the experience.
I first heard about GWE in 2019 when I attended a workshop at my university with the photographer Christine Bradshaw, who had been taking portraits of Greenham Women showing where they are now. It was the first time I'd heard of a protest camp, and I was lucky enough to meet several Greenham Women at the workshop. The experience stuck in my mind, particularly as I started to become involved in protest movements and spend time at camps myself. The significance of Greenham's longevity, and the need to record the legacy of protest really started to hit home.
When I heard last year that GWE was celebrating Greenham's 40th anniversary by recreating the walk from Cardiff to Greenham, I decided to join the walk from Bristol to Bath. When I arrived, I bumped into Christine and some of the women I had met several years back. I was introduced to Becca and Vanessa and told about the job as Digital Archiving Assistant. I was then interviewed and offered the job. It all seemed quite fortuitous that I was being given the opportunity to work on the project that had both been on my radar for some time, and one that was actively documenting the protest history that had become so important to me.
Throughout the 6 month placement I have worked closely with the Greenham archival material. At the beginning of the placement I spent a lot of time transcribing the interviews. This gave me the chance to spend hours listening to the incredible stories of Greenham Women – and helped me to better understand the issues Greenham Women were concerned about, how they acted upon them, how they networked and how they lived.
Having the opportunity to interview Greenham Women myself has certainly been a highlight – finding unexpected stories, and helping people to recognise how significant their own actions and lives have been. Some of the actions the Greenham Women did were wild – and their spirit and tenacity has been very inspirational to me. As someone who has lived off grid and now in a van, I've particularly appreciated hearing anecdotal stories about people who live alternatively – both at Greenham and in the lives people have gone on to lead afterwards.
As the placement has gone on, I've become more involved in the development of the archive – setting out intentions, working on its holistic presentation, applying for funding opportunities and beginning to understand how you keep a project like this going in a sustainable way. As a Fine Art graduate, it's been extremely valuable to learn these kinds of ins and outs of an arts organisation – as you are often not taught this at university – and has set me in good stead for pursuing further freelance work in the arts, as has always been my aim.
The team at GWE and SLG have been incredibly supportive, understanding and encouraging. I would really love to thank everyone on the team for this, for how they have taken on board my ideas and for letting me run with them. I have been fortunate enough to have been offered freelance opportunities with the company going forward and will continue to contribute to the archive and work on improving the environmental sustainability of both SLG and GWE.
Activist history often gets lost. This is because it can be so exhausting for people who challenge the status quo, because it's not mainstream enough to be platformed and because of generational differences all meaning that this legacy isn't always passed on. I really believe documenting this history, as GWE are doing, is so important to building movements and making positive change.
It has been so valuable to have had this experience to celebrate, be critical and learn from what are sometimes difficult histories – and I thank GWE and SLG for doing the work they are doing of documenting it, and for having me on board.