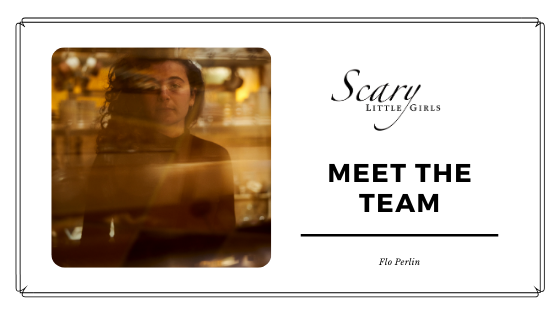 Flo Perlin is a singer-songwriter based in London. Here she writes about her work with us.
In 2020 I was delighted to have been asked to do a musical project for Scary Little Girls and Greenham Women Everywhere, of which I knew absolutely nothing about at the time. Unfortunately, not many people of my generation have heard of it, but I believe that these incredibly creative projects will speak to a larger audience!
I decided to focus on a project that would appeal to a wider age range, particularly children. Through creating this music project, I've learnt that Greenham contributed massively to the rights we have as women today. It highlighted to me how powerful protests are and ways of translating Greenham Women's actions into a way of life. I can't articulate how grateful I am to have been invited to learn, create and express my own interpretation of such an incredibly powerful protest.
When I was first told about Greenham Common Women's Peace Camp, it blew my mind. I was immediately moved by the courage of the women who participated and how it changed society. I had so much more to learn and what better way than to interview the women that were at Greenham Common at the time. My journey lead me into the extraordinary homes of Greenham Women around London – all with their own quirks and personalities. I interviewed six women, one of which built their own eco-home with their own hands – one had musical instruments everywhere… there were so many stories within each environment.
I pressed record. It was the conversations that moved me, their dedication and courage during such a politically challenging time. I interviewed six women, all of them being very passionate about activism in different ways. They shared their personal stories while we drank tea, then wine and then the next thing I knew it was the early hours of the morning and we were still chatting. I had never eaten so many biscuits in my life. Their experiences are captivating, horrifying and hilarious – some of our chats ending in tears and laughter.
I was absorbing so many stories that even when someone asked me to explain what Greenham Common was, my brain melted and I couldn't quite articulate it. With all these experiences stored in my mind, frustration arose with a child-like yearning to articulate it. I often find that the best way to express yourself and get cracking is to simply be playful.
I decided to write my own simplified version of the Greenham Common history and asked if one of the Greenham Women's grandchildren could read it out loud as I recorded them. A 10-year-old girl came forward and enthusiastically volunteered. I feel that it's very important to present a child's voice – in order to represent the humane innocence of simply wanting freedom and to make this project accessible for a larger age range. I composed, recorded and mixed a soundtrack to accompany the story using live and software instruments. Placing myself in the shoes of these women's experiences allowed the music to naturally flow. The music portrays my playful and powerful journey in exploring Greenham Common.
Listen below – I hope you enjoy!