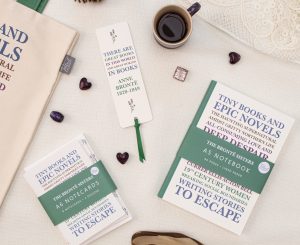 Our featured business this month is the joyous Portrait In Print – thought-provoking literary gifts, designed and made in the UK!
We first encountered this business when we met founder and design lead Olivia at Leeds Lit Fest. Olivia had a stall in the library for our performance of The Full Brontë, and our audience just loved her Brontë products – aren't they fab? We love that the gift sets include a preloved novel – we adore that gorgeous old book smell!
Olivia produces typographical art to tell the stories and paint the portraits of literary icons. Products include notebooks and notecards, tote bags and bookmarks, and they are all made in the UK, using environmentally friendly methods. Packaging is recyclable, and is made from recycled materials where possible
What's not to love?
If you are feeling a little bit back-to-school-it's-Hallowe'en-soon-oh-gosh-Christmas then do consider Portrait in Print for either a notebook for the new term, a set of notecards for a student leaving home for the first time (so much nicer than a WhatsApp message) or a gift for a literature lover. We will be!