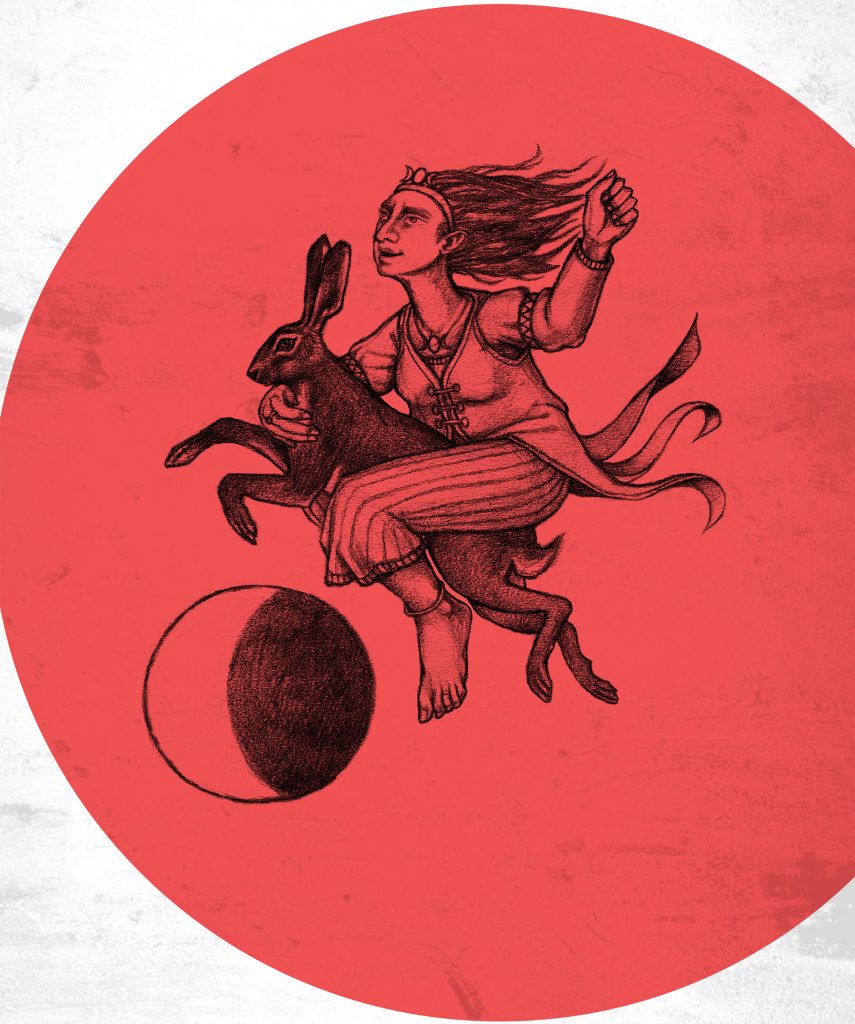 Join us for The Mayven Festival, an extravaganza of comedy, cabaret, festivities and feminism, storytelling and silliness, celebrating 20 years of Scary Little Girls – and still going strong!
There's lots on the agenda for the Winter segment of the Mayven Festival – mark these dates in your diaries!
Monday 12th December – Salon du Cinema, the festival kicks off with an evening of film, cabaret, comedy, music and storytelling exploring depictions of witches!
Tuesday 13th December – Blue Moon, after a Research and Development day on the play at our Summer Mayven Festival in July, we are delighted to be developing it further and sharing the performance outcome with the public!
Wednesday 14th December – Menopausal Mayhem & Monologues, a one-woman show focusing on the funny side of the menopause and also the uplifting freedom and positivity it can bring!
Thursday 15th December – The Mother's Ruin Cabaret, join compére Rebecca Mordan for an evening of music, stories, comedy, special guests and surprises from the finest fems from the Cornish arts scene.
Friday 16th December – Salon du Chocolat, let us stimulate your senses in our intimate storytelling salon celebrating the relationship between cocoa nibs and forbidden literature…
Saturday 17th December – Menstrual Creativity Workshop, an online workshop that explores how to run a menstrual cycle aware process to benefit both your participants and the work.
Saturday 17th December – Riot Showgrrrls Club, putting the "camp" squarely into "campaigning", our heroines Rebecca Mordan and Christina Li are going to use games, comedy, songs and hand-stamps to look at how we are faring in these days of hyper-social media and Pornhub.
Sunday 18th December – Lights On, Lights Off Storytelling Walk, our most requested project is at last brought back for our 20 year celebrations! We are incredibly proud of these much-loved walks, which are part self-guided tour, part promenade performance.
Tuesday 20th December – A Scary Little Tempest, this 50 minute frolic into this classic text uses Cornish mythology and the Minack's open air theatre and rugged sea-scape to explore themes of power, intimacy, manipulation and hope.
Wednesday 21st December – Solstice Stories, enjoy the words of Cornish favourites like Anna Maria Murphy and LH Trevail and uncover new gems, all performed from the stage, balcony and backstage hidy holes of Cornwall's most magical venue.
Monday 12th – Monday 19th December – Greenham Pop-up Exhibition, Jupiter Gallery
Tuesday 13th – Friday 16th & Monday 19th – Tuesday 20th December – Mayven Exhibition, Stones Krowji
More details about each of these events can be found on our Mayven page.