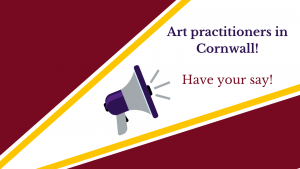 Are you an art practitioner based in Cornwall? Want to discuss the issues that local artists face and make a change? Join us for this industry event with Owdyado Theatre!
You may have come across the recent Performing Arts Workers Survey, which has been circulated through emails and on Facebook. We have been heartened by the overwhelmingly positive and candid responses from 72 artists who completed the survey. While the survey underscores the abundance of ambition, talent, and passion in Cornwall's performing arts community, it also sheds light on the frustration, anxiety, and exhaustion that many artists face.
Our goal is to begin addressing these challenges by coming together in person to brainstorm solutions for the issues causing these concerns. Consequently, we would like to extend an invitation to you to join us for a practical discussion event at St Gluvias Village Hall in Penryn on Sunday, November 26th, from 12:30 pm to 2:30 pm.
During this event, we will delve into five key issues identified from the survey:
Local funding (decision-making and distribution)
Cliquiness and Gatekeeping in Cornwall
Limited artistic freedom
The value of artists in Cornwall
Geographical and professional disconnectedness
Our aim is to explore these issues through small, informal group discussions to generate actionable starting points to effect positive change.
We also have plans to host similar events in 2024 in various areas across Cornwall. If you cannot attend the Penryn event, please let us know which areas would be more convenient for you.
For those attending the Penryn event, here are directions to the hall.
Please note that this event is not open for the public and is exclusively for artists in Cornwall. Please email us to book your place.
We look forward to the opportunity to engage in this crucial discussion and work together to improve the performing arts landscape in Cornwall!
Thanks to The Stage for sharing this campaign!