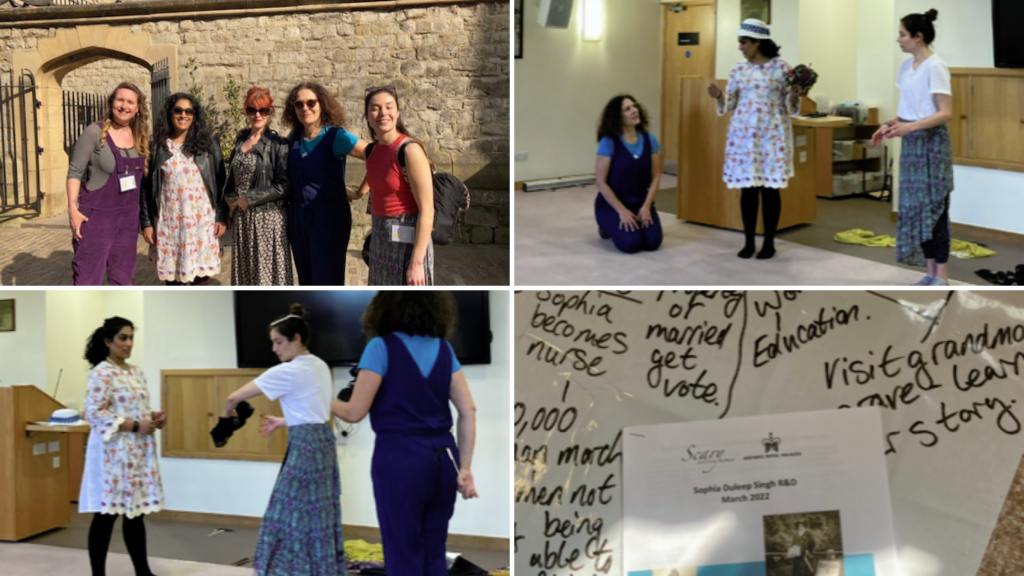 You may have seen that, in March, we were able to get together and MAKE SOME THEATRE for the first time in absolutely ages! We spent three days at The Tower of London, doing research and development for our project with Historic Royal Palaces to develop an original touring schools production about Indian suffragette, Sophia Duleep Singh.
Here, Project Director Faye takes us behind the scenes…
Hi, I'm Faye, the director of Scary Little Girls' latest project created in collaboration with Historic Royal Palaces about the life of Princess Sophia Duleep Singh. We're still early on in the project, having just finished the research and development (R&D) phase at the Tower of London at the end of last month.
R&D is a special part of the theatre making process. As theatre makers we understandably have a heavy focus on being prepared for performance, but R&D is just for us, as creatives, to immerse ourselves into our characters' worlds and develop the work from there. Sometimes we work on finessing a draft of a script and sometimes, as in this instance, we are tasked with creating that script from the very beginning. Fortunately in this case we have a wonderful biography by Anita Anand entitled 'Sophia, Princess, Suffragette, Revolutionary' to form the basis of our research.
One of the very first activities we did together was to sketch out a timeline of Sophia's life and to pick out which key events we thought should feature in the play.
Sophia fitted a remarkable amount into her life: not only was she a second generation migrant, an adoptee, Queen Victoria's goddaughter and prominent and active suffragette who fought for the vote alongside Emmeline Pankhurst, but *breathe in* she was also actively involved throughout her life in the fight for Indian independence and the welfare of Indians in Britain, building a hospital for Britain's forgotten Indian sailors – known as the lascars – and even becoming a nurse for Indian soldiers during WWI, AND assisting evacuees in WWII!
I feel the biggest challenge we will face with this script is fitting everything we want to talk about into a show that's less than an hour long….watch this space to see how we work it out!
Watch this space as we'll be sharing more about this work as it develops further