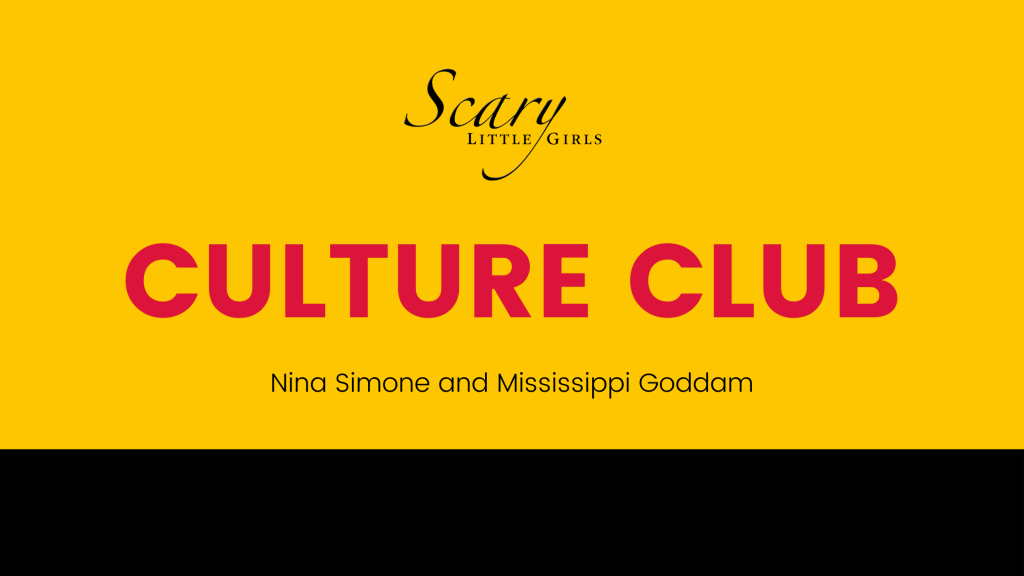 After a short hiatus *cough*, we are delighted to announce the return of our Culture Club series, where we look further into some of the texts and arts that Rebecca Mordan explored in our Salon de la Vie events.
This month, as it's Nina Simone's birthday on the 21st, we are looking at her song 'Mississippi Goddam' mentioned by Becca as 'homework' in our Salon about Nina, which premiered on August the 20th 2020.
Nina is reported to have written Mississippi Goddam in just one hour and later referred to it as her "first civil rights song' – but it's certainly not her last. A rollicking ride of a song, she would often introduce it by saying 'The name of this tune is Mississippi Goddam and I mean every word of it.'
First performed in 1964, the song captures Nina's response to three horrific events: the murders, both in Mississippi, of 14 year old African American Emmett Till, lynched after 'offending' a white woman, and 37 year old African American college graduate and WWII veteran Medgar Evers, assassinated outside his own house by someone opposed to desegregation; and the 16th Street Baptist Church bombing in Birmingham, Alabama – an act of terror by white supremacists which killed four black children.
A visceral and direct address to listeners, the song is compelling. 'A show tune, but the show hasn't been written yet' it is upbeat, jaunty, toe-tapping. And yet it is filled with rage, rage at the violence perpetrated, rage at being told to wait for change, rage at the lies Nina and her brothers and siters have been told. Two of the most poignant lines are towards the end:
You don't have to live next to me
Just give me my equality
How softly tragic that is.
We can only end by exhorting you to keep resisting, keep demanding change – and encouraging you to watch Nina singing 'Mississippi Goddam' here. If you want more Nina (and who doesn't?) – listen to our playlist inspired by her here, and watch our Salon celebrating her here.