Salon de la Vie – Season Two – Billie Holiday
22nd July 2020 @ 7:30 pm

-

7:50 pm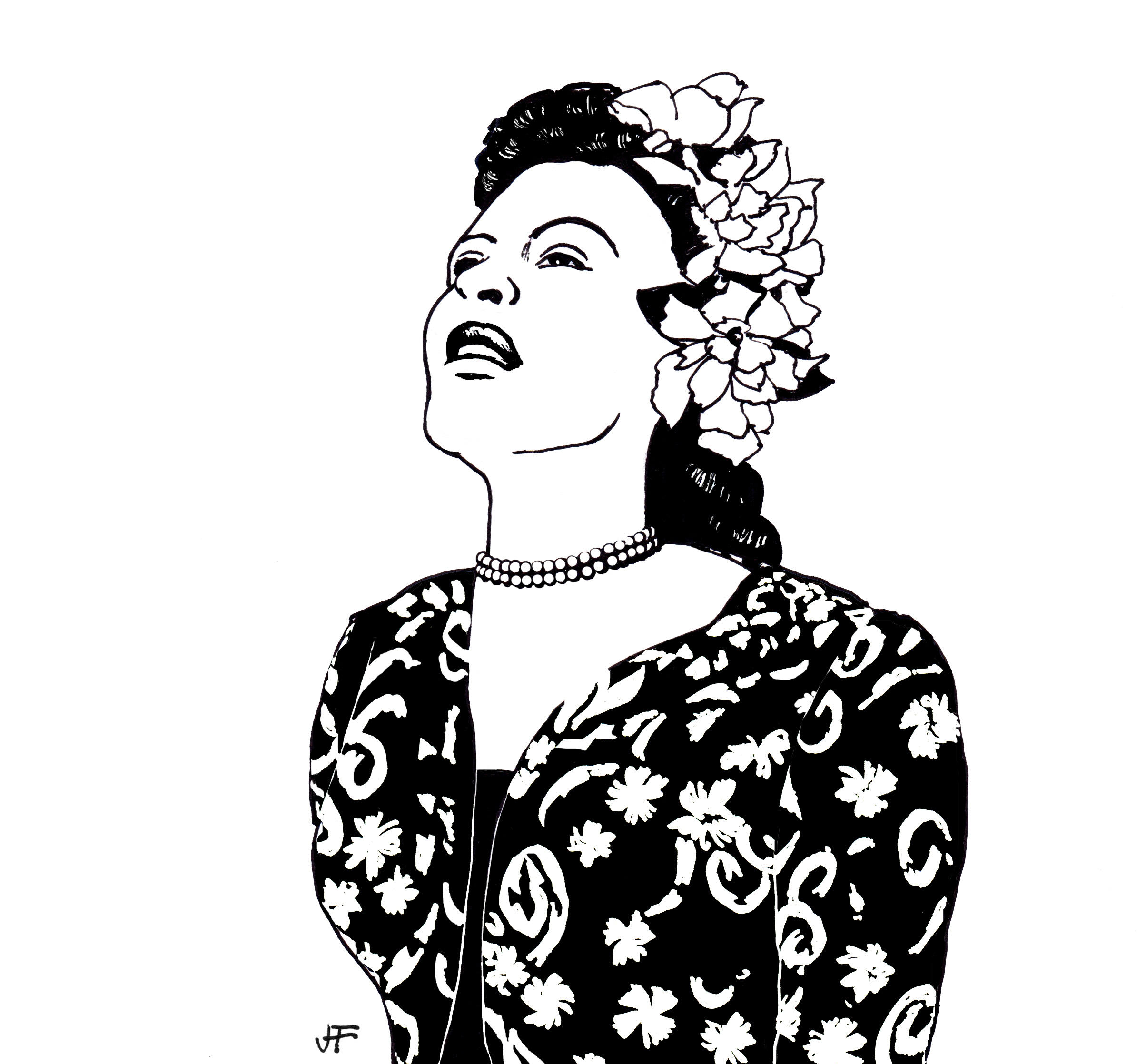 Salon de la Vie presents…. Billie Holiday!
Join us on YouTube from 7.30 pm on the 22nd July
Watch the Salon on YouTube Support us on Ko-Fi
Loved then and now for her evocative singing and her skills in improvisation, Billie Holliday changed the jazz scene forever.
Billie tried to break into show business initially as a dancer and after one failed audition the pianist took pity on her and asked her if she could sing; Billie immediately bust out tunes by her favourite Bessie Smith and was hired as a singer forthwith!
Her career blossomed. As well as being 'Lady Day' the performer, Billie was a gifted songwriter and a brave voice of the civil rights movement – she made the song 'Strange Fruit' famous singing it at Cafe Society despite warnings from those around her of possible retaliation against her for promoting the song; it had originally been written as a poem by Jewish school teacher Abel Meeropol.
Billie was also a champion of her beloved gang of dogs!  Her large canine family encompassed all shapes and sizes, from a tiny coat-pocket poodle, through a beautiful beagle, chirpy chihuahuas, a gigantic Great Dane and more – but her favourite was a boxer named Mister.
We're exploring Billie's life in our opening night of Salon de la Vie Season Two and we're excited to share that special guest performer Kudznanyi Chiwawa will join salon host Rebecca Mordan to celebrate Billie and her legacy through performances of her work, chats about her life and readings from her contemporaries like Dorothy Parker.
Grab your Manhattan and let's bring both the glamour and the politics of the Jazz Era to life and raise a glass to our first heroine of season two!
About Salon de la Vie
Hosted by Scary Little Girls' Rebecca Mordan, Salon de la Vie is a series of fortnightly 15 – 20 minute extravaganzas of songs, storytelling, merriment and conversation, focusing each time on an awe-inspiring, remarkable and brave human from the world of film, music, literature and history, drawing parallels with the achievements of activists today, to celebrate how people positively embody the change they want to see in the world, for themselves and for others. And we're super proud that each salon has a custom illustration provided by the wonderful Jacky Fleming.
Come along every other Wednesday evening to join in with our singing, celebration and joy!
We'd like to thank our amazing funders Arts Council England for supporting this project
About Scary Little Girls
Scary Little Girls is a vibrant, hard-working production hub whose commitment and passion for theatrical and artistic storytelling is borne out by the variety of scary little work we have created and the support we have from our scary little artists and audiences.