Salon de la Vie – Season Four – Nobody Expects the Suffragettes!
30th June 2021 @ 7:30 pm

-

8:00 pm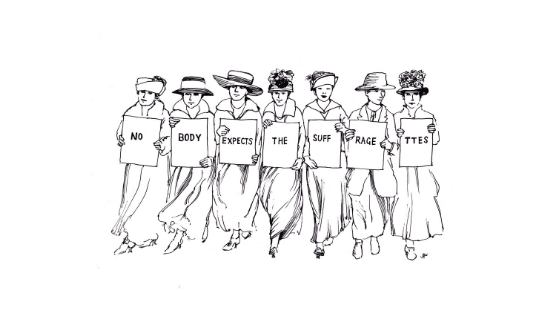 Season Four of Salon de la Vie will be a collaboration with Dr Naomi Paxton on everything you didn't know about the suffragettes and their creative campaigning!  We'll combine recorded extracts, songs, special guests and live shows in this season to celebrate the wild, wonderful, wise and witty women of the first wave.
Join us on June 30th for Nobody Expects the Suffragettes! 
Site specific, pop up and random acts of activism all characterised the creative shenanigans of suffragists in the theatre and entertainment industries, and in this Salon we celebrate some of the most unexpected!
Get your Lady Rebel cocktail in your hand and settle in for tales of bravery on the tube, rumbles at jumble sales and the perils of selling the suffrage newspapers, with songs that show how stirring women can be when they bend the rules!
Did you know?
✯That suffragettes were using art and pop up performances to make their points in much the same way campaigners that Extinction Rebellion do now?
✯That people trying to sell the suffragette newspapers were forced to stand in the gutter lest the police arrest them for "obstruction of the pavement"?
✯That our guest expert Dr Naomi Paxton this season has also made this short film for BBC?! 
Keep an eye, or in fact an ear, out for
Here are the links to She's Good Enough (there are loads more on Youtube), suffrage song –
About Salon de la Vie
Hosted by Scary Little Girls' Rebecca Mordan, Salon de la Vie is a series of fortnightly 15 – 20 minute extravaganzas of songs, storytelling, merriment and conversation, focusing each time on an awe-inspiring, remarkable and brave human from the world of film, music, literature and history, drawing parallels with the achievements of activists today, to celebrate how people positively embody the change they want to see in the world, for themselves and for others. And we're super proud that each salon has a custom illustration provided by the wonderful Jacky Fleming.
Come along every other Wednesday evening to join in with our singing, celebration and joy!
We'd like to thank our amazing funders Arts Council England for supporting this project
Huge thanks to DJ Stegosaurus for creating a fantastic playlist on Spotify to accompany this Season!
About Scary Little Girls
Scary Little Girls is a vibrant, hard-working production hub whose commitment and passion for theatrical and artistic storytelling is borne out by the variety of scary little work we have created and the support we have from our scary little artists and audiences.