Salon de la Vie Season 5 – Frida Kahlo
17th November 2021 @ 7:30 pm

-

8:30 pm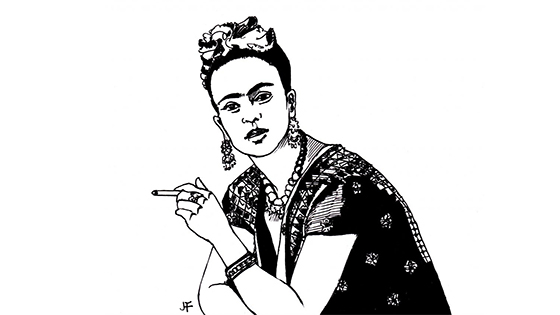 Join us on November 17th for our celebration of Frida Kahlo, the inimitable painter beloved for her unique self-portraits expressing extremes of pain and passion in bold, vibrant colours.
Frida achieved a certain amount of fame and recognition in her lifetime, but she was often overshadowed by the men with whom she was associated. Her cult international status has since spread well beyond Mexico and feminist circles to a mainstream appreciation that belies the enduringly transgressive nature of her life and art.
We'll be joined by special guest, actor Kiruna Stamell who will explore the role of the artist as activist (and vice versa) and talk about Kahlo's relationship to disability, which was detailed so vividly in her work and yet does not define her legacy in the same way as other famous figures. Kiruna will also be reading from Barbara Kingsolver's remarkable novel 'The Lacuna', in which Frida Kahlo features as a key character fighting for her public identity: "If I don't choose, they choose for me . . . The newspapers would wrap me in gauze and make me a martyred angel, or else a boring jealous wife."
Did you know?
★ Kahlo did not sell many paintings in her lifetime and had only one solo exhibition in Mexico in 1953, just a year before her death at the age of 47; yet today she is one of the highest-selling women in art
★ As depicted in Portrait with Cropped Hair (1940), Kahlo would cut her long hair to punish husband Diego Rivera for his many infidelities
★ Frida had to endure over 30 surgical operations across her life, after suffering from polio as a child and surviving a severe bus accident as a teenager
Book your tickets here 
Link will be sent to all ticketholders 30 mins before event starts
About Salon de la Vie
Hosted by Scary Little Girls' Rebecca Mordan, Salon de la Vie is a series of fortnightly 15 – 20 minute extravaganzas of songs, storytelling, merriment and conversation, focusing each time on an awe-inspiring, remarkable and brave human from the world of film, music, literature and history, drawing parallels with the achievements of activists today, to celebrate how people positively embody the change they want to see in the world, for themselves and for others. And we're super proud that each salon has a custom illustration provided by the wonderful Jacky Fleming.
Come along to join in with our singing, celebration and joy!
We'd like to thank our amazing funders Arts Council England for supporting this project.
Huge thanks to DJ Stegosaurus for creating a fantastic playlist on Spotify to accompany this Season!
About Scary Little Girls
Scary Little Girls is a vibrant, hard-working production hub whose commitment and passion for theatrical and artistic storytelling is borne out by the variety of scary little work we have created and the support we have from our scary little artists and audiences.