Greenham Women's Peace camp Exhibition : Green Man Festival
August 18 @ 8:00 am

-

August 20 @ 5:00 pm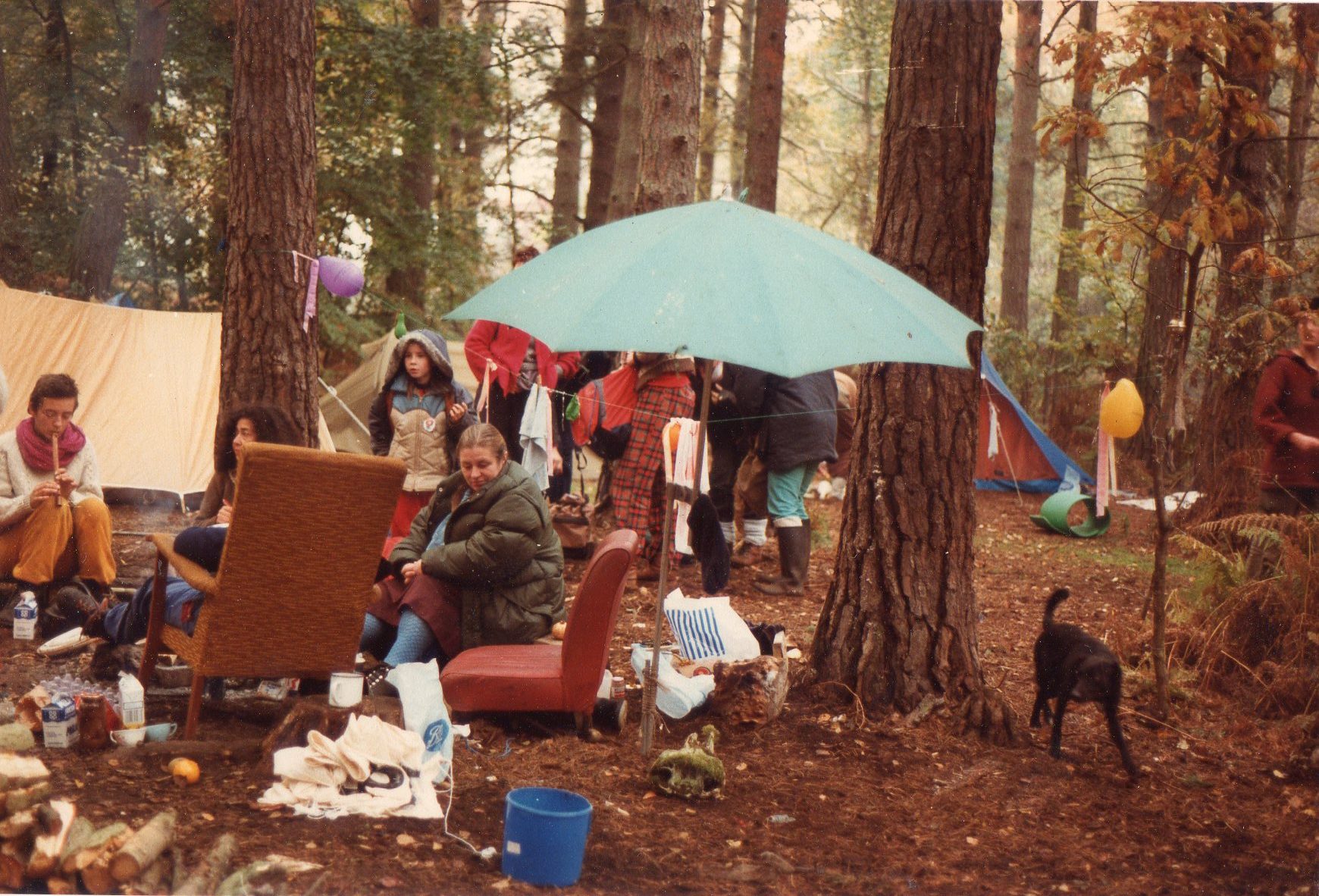 Are you heading to the Green Man Festival this summer? We are! We'll be in Einstein's Garden with our Greenham Common Women's Peace Camp exhibition from the 18th to 20th August – join us!
The Greenham Common Women's Peace Camp was an enduring and iconic protest spanning 19 years from 1981 – 2000. Whilst the occupation of the common began with the aim of forcing out the US nuclear warheads from Berkshire, the protest became a focal point of feminist history and has left a legacy of women's liberation around the world.
Join this immersive installation to weave webs, build a bender, make a banner or peace dove, create music and sing songs. Join in discussions about climate change, feminism, nuclear weapons and the necessity for and challenges facing activism today.
Our oral history team will also be there to record your memories of Greenham so that you can become part of our growing archive.
Contributors:
Rebecca Mordan
Rebecca is the creator of award-winning feminist production hub Scary Little Girls and spent several years of her childhood visiting Greenham. She recently co-wrote and presented The Greenham Effect for the BBC's Archive on Four, drawing on the 200 plus testimonials she helped gather from Greenham Women as part of the Greenham Women Everywhere project she co-founded.  This also led to the publication of her first book, Out of the Darkness:  Greenham Voices drawing on these interviews. Join her to chat about your memories of Greenham and hear hers.
Sue Say
Sue Say lived at Greenham for 2 years. On her first evening there, she heard a woman talking to a soldier on the other side of the fence. It was that powerful conversation that kept her at the camp, protesting nuclear missiles but also exploring the multitudes of different ways to be a woman by meeting and talking to "many shades of women". Sue went to prison many times, took the government to court for illegal strip-searches and won, changing the law in the process. At Green Man, she will be talking about her soon to be published book and inviting you to join her in making friendship bracelets.
Carolyn Francis
Carolyn lived at Greenham in a hollowed-out holly tree from Summer 1984. She became a Buddhist at Greenham and the personal impact of her time there changed the course of her life.
Carolyn is a well known for her research, composition, performance and teaching of Cumbrian fiddle and border bagpipe tunes. She is currently focussing on expressing the relationship between traditional music, place and landscape, and reaching new audiences in order to expand the community playing, enjoying and participating in this music.
Pearl Love
Alongside song writing and performing, Pearl is a workshop facilitator, harmony sharer and choir leader. Pearl grew up around group singing and has always felt the power of singing with others and the community it can create. It is her belief that everyone should have access to the uplifting joy and sense of connection that singing in harmony can bring. Pearl teaches harmony songs and rounds, from a range of traditions, in a friendly and lightly humorous way. Each song is taught by ear, so no experience is needed, and every voice is welcome!
You can also catch Pearl leading Mindful Music workshops in the Little Folk Field this weekend.
Pixie Taylor
Pixie went to Greenham when she was 18, living at Green Gate from 1985-86 and returning to live at Blue Gate from 1991-1994. She has been a Forest School leader since 2002 and feels passionately that is vital for us to enable and encourage children today to connect with the natural environment. Pixie will be teaching people how to build their own Greenham-style camp, using natural materials and simple techniques.
Jill 'Ray' Raymond
Ray lived at Greenham for around 12 years and she was part of a core group who stayed and took part in actions such as the famous protest when they danced on the silos on New Years Eve and cut through miles of fencing.
Drop-in for some craftivism with Ray who will be running practical web weaving sessions and sharing the history of Web Weaving as feminist protest.
And more TBC. Free to festival ticket holders.