Common Ground: Community Coffee Morning
October 21 @ 10:00 am

-

12:30 pm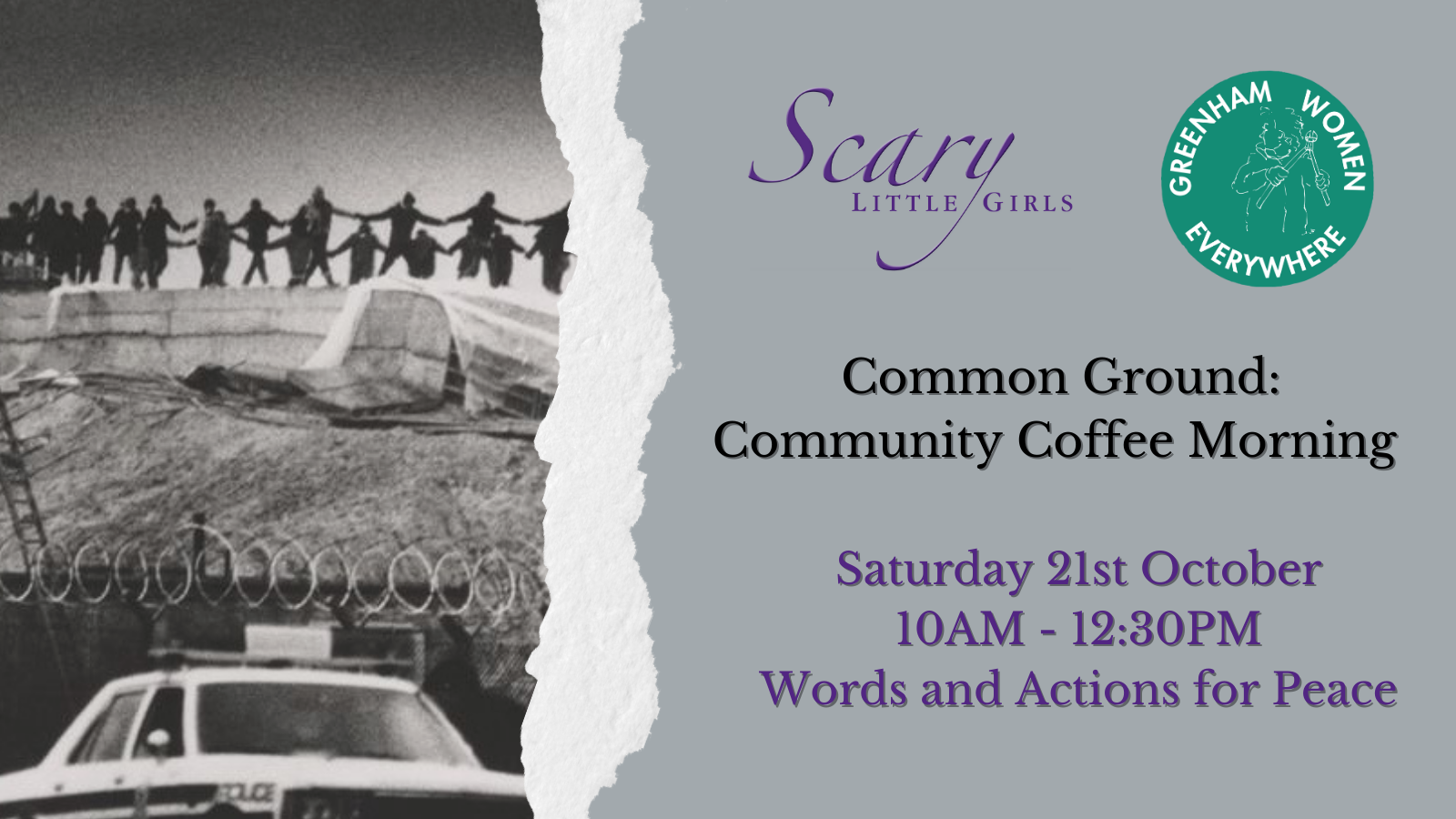 Join us at Words and Actions for a morning to hear of stories, songs and memories of Greenham Common and Faslane Peace Camps and find out more about the work Secure Scotland and Peace and Justice Scotland are doing to create a culture of peace across Scotland 
It's been 40 years since the Greenham Common and Faslane Peace camps were set up as a physical presence oppose to oppose nuclear weapons. Iconic examples of post war peace camps', their tactics, including building on the tradition of non-violent direct action, played their part in inspiring the Occupy movement, climate camp and the direct action of XR today.  
Greenham Common is the largest women's led movement since suffrage and today Faslane Peace Camp remains the olderst continuous camp in the world. Come and consider what we learned and can learn from the movement, as well as hear about the inspiring women who have taken part over the years. 
What's On:
We're inviting you to a Community Coffee morning where you'll be able to find out more about Greenham Common Women's Peace Camps and Faslane Peace Camp through our pop up exhibition, free craft activity, the chance to share your own stories of resistance and hear about the work local organisations are doing today including local campaigns and how you can get involved. 
Refreshments will be provided. All activities are free. 
All materials provided.  
Free Tea and Coffee Provided  
Words and Actions for Peace is a gallery, and an exhibition or events venue, which is providing a home for two organisations committed to peace and sustainability, Peace and Justice Scotland, and also Secure Scotland. 
About Common Ground 
Common Ground is a series of events bringing the legacy of Greenham Common Women's Peace Camp to local communities across the UK. It is part of a project created by Scary Little Girls in collaboration with Greenham Women Everywhere CIC to map the impact of the Peace Camp on the women who inhabited it and the communities they returned to. This project has been made possible thanks to support from the Heritage Lottery Fund. 
About Greenham Common Women's Peace Camp 
Greenham Common Women's Peace Camp was an enduring and iconic protest spanning 19 years from 1981 – 2000. Whilst the occupation of the common began with the aim of forcing out the US nuclear warheads from Berkshire, the protest became a focal point of feminist history and has left a legacy of women's liberation around the world. You can view our archive of oral histories, photographs and ephemera from Greenham here. 
Inclusion and Accessibility
Common Ground strives to be an inclusive and welcoming space which celebrates diversity in all its forms. Our approach is to learn from and value each other's lived experience.  
If you have any access needs you'd like to speak to us about please email us.