Common Ground Activity Day
March 25 @ 12:00 pm

-

5:00 pm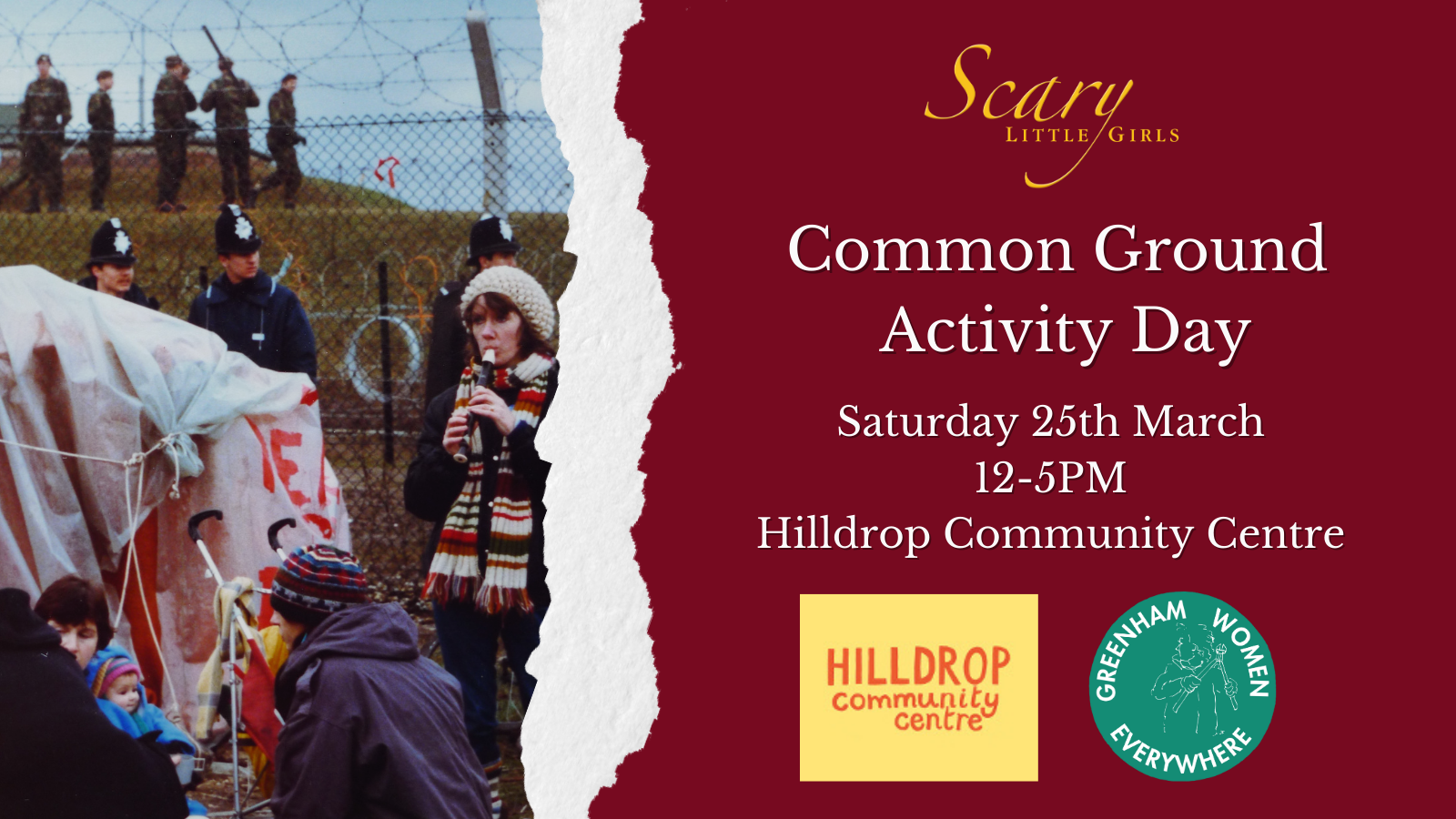 Join us at Hilldrop Community Centre in Islington for a day of stories, songs and memories celebrating Greenham Common Women's Peace Camp!
What's On:
There will be an exhibition of photographs from Greenham Common, a book reading, craft activities, face painting, willow den building and the chance to share your own stories of resistance!
We will be joined by local organisations including Community Plan 4 Holloway, St George Mutual Aid Group and Disability Action Islington who will be sharing information about their campaigns and how you can get involved.
The Museum of Youth Culture will be bringing their scanner, so that you can add pictures from your youth to their archive. Remember to bring your personal photographs!
Refreshments will be provided from 1pm, including a free, hot, vegan soup.
Accessibility:
We are taking steps to ensure barriers to participation at this event are removed.
There will be a BSL Interpreter and Audio Describer throughout the day to support anyone with visual/audio impairments to enjoy all the activities. We will also be sharing a Trauma Busting Sheet to help ease any anxieties anyone might have about the day.
The venue is wheelchair accessible.
Please get in touch with Elaine about any access needs: elaine.maffrett@hilldrop.org.uk
About the Organisers:
This event is created by Scary Little Girls with the support of Greenham Women Everywhere and with thanks to funding from the National Lottery Heritage Fund and Islington Giving.
Whilst you are welcome to book in to this event, a ticket will not be needed for entry.
Everyone is welcome!
Here's our access guide for the day, and you can download it here.
This is an event run by the company Scary Little Girls. 
 It is part of a project called Greenham Women Everywhere. This project shares information about the women who lived at the Greenham Women's Peace Camp.
 The event is at Hilldrop Community Centre. There will be three event spaces: the Main Hall, the Small Hall and the Garden. You can go in all the spaces. 
When you arrive, you will be welcomed by Hilldrop Community Centre Staff. They will ask you to sign in at the Registration Desk. 
They will ask you if you are happy to be in photographs whilst you are at the event. If you do not want your picture taken, you will be given a coloured sticker to wear. 
These are the activities that will be there: 
Pop – Up Exhibition
-A tent that you can sit inside on your own to listen to a soundscape on headphones. You can also sit next to the tent on a chair.
-Photographs of Greenham Women.
Craft Activities 
-A willow building workshop in the garden with Jo. This will start at 2pm and finish at 4pm. 
-Craft activities with Maz. You can spend as much time or as little time making these as you like. 
-A face painter will be there.
Talks 
-Stalls with local organisations talking about their work.
-Talks and songs about the Greenham Women's Peace Camp.
-People you can talk to about Greenham, local events or anything else that you think about while you're there!
The event is open from 12 noon until 5pm. You can drop in and leave at any time. 
You do not have to join in with any of the activities. You can just enjoy looking around. 
 All of the activities are free. 
Food
There will be free teas, coffees and cakes. There will be a free vegan and gluten free hot soup from 1pm. 
The Venue
You can find out how to get to Hilldrop by clicking here.
At the venue there is: 
-1 unisex accessible toilet with baby changing facility in the reception lobby.
-Separate male toilets with urinals and single stall cubicle in the main hall lobby. 
-Separate female toilets with 2 stalls in the main hall lobby.
The venue is single storey, step-free and wheelchair accessible. 
Seated areas will be available. 
There will be a BSL interpreter & audio describer at the event.
If you feel like you need to be in a quiet space, you can ask a member of staff who will take you to a quiet space. 
 If at any point, you need urgent help, have any problems, or become lost, you can contact Sharon Foster. She is one of the people organising the event. 
Here is her phone number: 07919 417812 
 The Scary Little Girls team hope you have a wonderful time! 
We are excited to see you there.